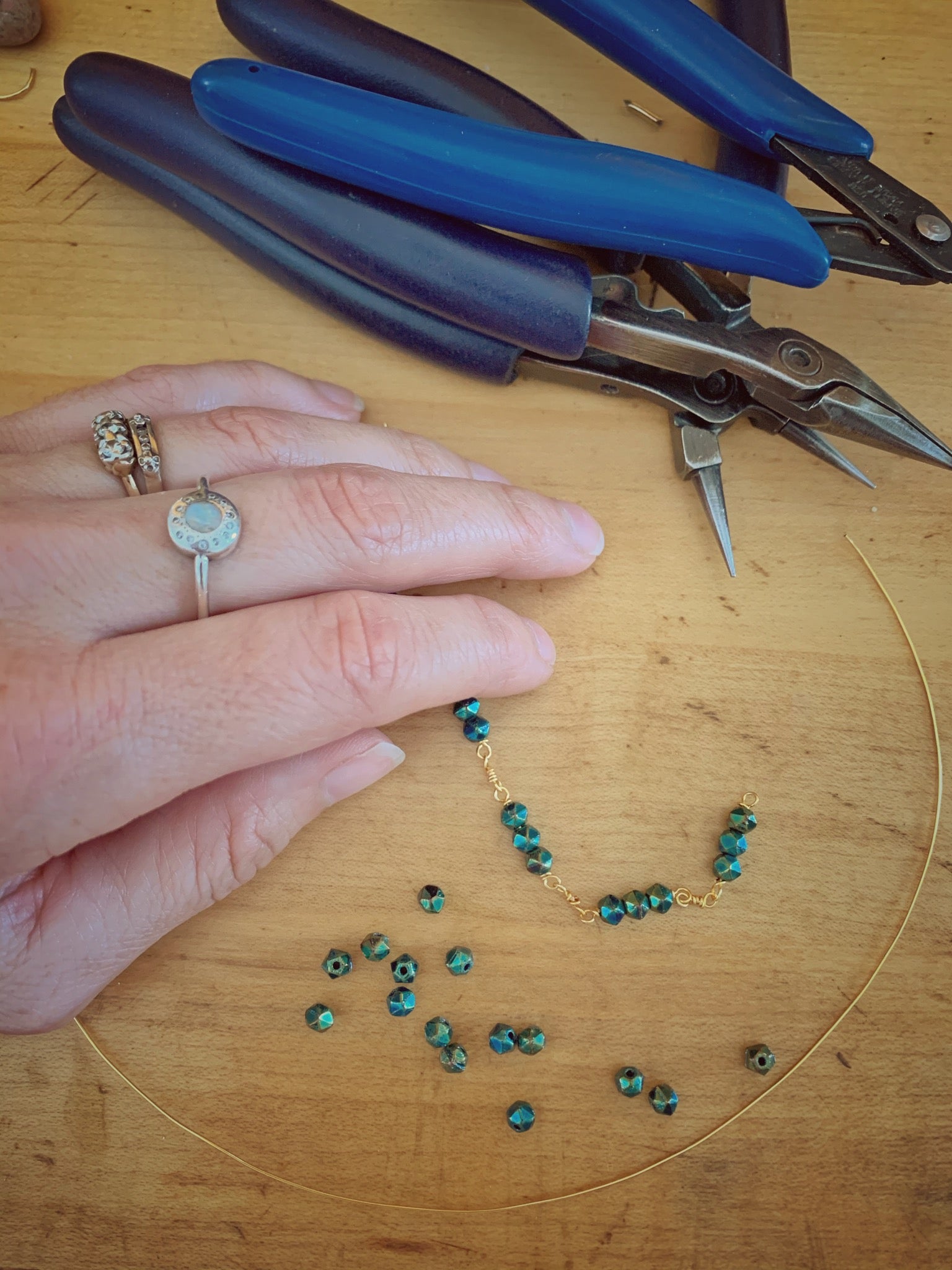 Time and love.  That is the answer to the title question.
Lately I have been creating a lot of hand made chains.  After some reflection on my recent work, I began to realize that this use of technique speaks more about current life than it does about aesthetic.
Initially, yes I set out creating a hand made chain earlier in the year because it is what visually fit the piece.  This style is no doubt beautiful and adds character, but it is not something I have ever done en masse because they are so labor intensive.  I have found though, the act of building these chains has painted a beautiful picture of current studio life.  
I have cut back completely on purchasing to conserve funds during this very uncertain year.  I have turned a very critical eye on the assets I already have in my possession.  I have been very fortunate over the past 15 + years of building my business to have amassed all sorts of goodies to work with.  I am challenging myself to work within the confines of the materials at hand.  So this means no more lazy designing and relying heavily on pre-fab chain and other findings.  I have taken to making a lot of the clasps and ear wires and most importantly, chains.  

Creating the chains by hand utilizes three things which I currently have plenty of; beads, wire and most importantly, time.  The latter is the primary reason I have not done a lot of this in the past.  It can take well over an hour to hand wrap an 18" chain compared to the about 5 minutes it takes to add a clasp on a pre-fab one.  This makes it very difficult to create a large number of works.  But right now, time seems to be a whole new element, and sitting down to work up a chain no longer feels like a waste but instead a smart use of material. 
More importantly, with each link created, I am writing a love letter to the moment.  With a meditative pause, I reflect on what we truly have in spite of what it feels like we have lost.  The shifted perspective of abundance and feelings of gratitude swell with every inch added to each chain.  
If you end up with one of my hand made chains, know the love that went into it.  
((( Wear it like a hug )))  
Stay Safe, Be Well.
Sending Love. xoxo
Erica